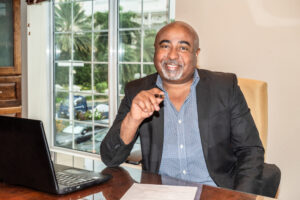 Mark Beckford has over 18 years' experience in legal advisory services both in public and private sectors in the Cayman Islands.  Mark is a graduate of the University of Liverpool, United Kingdom and also holds a legal practice certificate from the University of Belfast, Ireland.  He qualified as an attorney-at-law in the Cayman Islands in 2003 after completing his articles of clerkship with the law firm Appleby, Cayman Islands.  He also obtained an MBA from the International College of the Cayman Islands and a Bachelors of Science degree in Business Administration from Northern Caribbean University in Mandeville, Jamaica.
Mark has gained significant experience in corporate law, commercial law and investment funds from his eight years of practice with the law firm Solomon Harris in the Cayman Islands. In addition to his legal practice, he also participated in external international legal training on cross-border transactions in conjunction with the New York Bar Association.
Shortly after qualifying as a Cayman Islands attorney, Mark worked for State Street Cayman Trust with responsibility for negotiating all new and existing mutual funds documentation under review. This provided the opportunity for him to work with various legal teams and leading law firms across the United States, Ireland and Japan in conjunction with local legal counsels covering a wide range of corporate entities, unit trusts, and partnerships.
Mark's current practice covers corporate, commercial, international financing & lending, investment structures (involving both companies and partnerships, open and closed-ended) and private equity transactions. His work involves all aspects of mutual/hedge fund formation, from selection of the investment vehicles to advising on the setting up, registration and ultimately termination thereof. Mark has also developed a specialty in the area of Islamic Finance (i.e. HALAL, Sharia compliant structures).
Some highlights of his legal career (amongst other major transactions):-
worked together with US counsels on the setup of a master feeder hedge fund structure for a US investment manager that was funded by US Federal monies under one of the US Government's economic stimulus packages;
acted as counsel for one of the purchasers of a Cayman Islands international accounting firm valued in excess of US$120 million;
acted as counsel for a household name US airline in relation to the merger of a Cayman Islands captive insurance company and a Vermont captive insurance company valued in excess US$400 million;
worked in conjunction with a major US investment manager to reorganise their Cayman Islands funds management structure (mainly Sharia compliant funds) due to regulatory changes in the Middle East that affected direct and indirect investments of Middle Eastern investors into Cayman funds; and
acted as counsel for a major US manufacturer in relation to the purchase of a Cayman entity that has major development projects in various countries worldwide valued at US$1 billion.
Mark has also written for and has been featured in various magazines:-
The Cayman Financial Review (the CFR), Issue No. 11, summer 2007;
Cayman Magazine, Cayman Funds, April 2007; and
Featured in the Islamic Finance News, Vol. 4, Issue 30, 27 July 2007.
Mark was also a contributor to the Cayman NetNews  in relation to "Mergers Simplified By Law Amendment" in an article published on 21 May 2009.
He is also a Notary Public for the Cayman Islands.